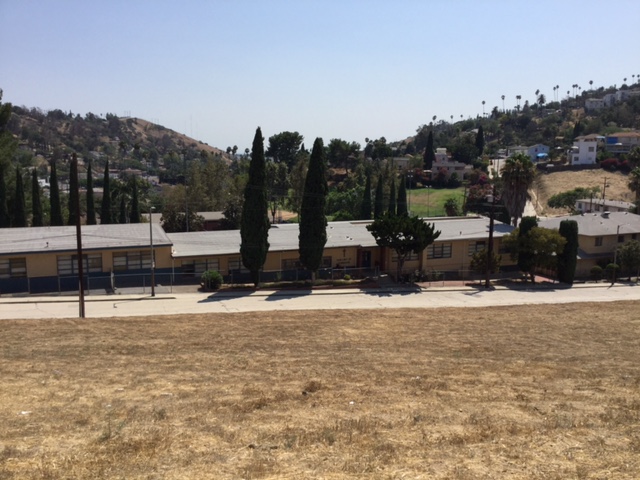 September 2016
Native HomeLA
"It's about our rights as native people to this land. It's about our rights to worship. It's about our rights to be able to call a place home, and it's our rights to water." - Dakota access pipeline protestor*
Upon arriving at the home for our first rehearsal, flashes of childhood memories danced through my mind and body. This iteration of HomeLA is at a home situated on a hill that overlooks the Catholic school I attended. I attended Our Lady of Guadalupe with my twin sister Sunshine from 1st to 4th grade. My mom, a single mama, also went to this school. We all had the same 1st grade teacher. I remember her name, Sister Jose. She was the sweetest, most patient, loving nun and teacher I remember from my four years there as a student. As the years passed into 2nd & 3rd grade, the nun-teachers got weird. They were strict in the Catholic sense of discipline and punishment. This is when I began to question Catholicism. The 2nd grade teacher used to send students to stand in the corner if they misbehaved, the third grade nun would threaten with a ruler. Finally, the fourth grade teacher was not a nun at all. That year I joined the drill team and I got to move my body in choreographic unison with classmates to the music of the 1980s.
Although I questioned the organized religion and formalities of Catholicism, it was during these four years of my school experience where I developed a belief in things like spirits, souls and the power of prayer to a divine force. Every night, I was reminded by my mother to say my prayers before going to sleep. I didn't say the Our Father and Hail Mary or go through the steps with the rosary. I would use my own words and simply say what I felt, expressed gratitude and asked for protection.
I grew up in El Sereno, a predominantly Latino & Chicano neighborhood. I am Xicana, (American-Mexican). I embrace my Native American roots and I am conscious that identifying as Xicana is an acknowledgement of a social-political identity. I am third generation Native of Los Angeles and I grew up here in the 1980s and early 90s. Being here for a performance rehearsal with artists so far from knowing what this neighborhood was like, brought on nostalgia, but mostly a weighted feeling of responsibility to comment on issues related to social-political-indigenous identity and land politics.
As a native and 3rd generation Xicana and Los Angeles native, I have particular memories and appreciation for this neighborhood. Yes, East LA neighborhoods like this are getting cleaned up, gentrified and are now desirable for speculative home owners and artists. The Los Angeles landscape has changed, I welcome change. East Los Angeles is more safe now. Like, I'm not worried as much about things like drive-by shootings. Unfortunately, this changing landscape threatens the local natives. Rents are rising and Tenants like my mom and grandmother who still live in El Sereno, are confronted with issues in regards to access, affordability, displacement. Just yesterday after rehearsal, I went to visit my grandmother. She shared that the homes owned by Cal Trans, one of which she has inhabited as a renter for over 20 years are going up for sale and she, along with my mother and neighbors are worried about their options. The massive displacement of working class people of color in neighborhoods like El Sereno all sounds too much like colonization. At first, I felt the responsibility to create work to comment on this reality. Then, I thought I wanted to invoke the memory of the stories of La Llorona (the crying woman) that created a bit of fear in my childhood. La Llorona is an Mexican folk tale of a young woman who fell I love, got married had sons then drowned them in a lake or river because she went cray cray after finding out her husband cheated on her. The story told amongst classmates at Our Lady of Guadalupe, was that she haunted the lake nearby at Montecito Heights. I used to have nightmares. As I thought about the story in contemporary times, at first I thought she represents the single moms loosing her sons to neighborhood gang violence. From a feminist perspective, I was disturbed that she was made out to be a mad woman who lost it because of a cheating husband. I then shared this with a friend who is a Chicano Studies professor and he shared another perspective of La Llorona. She was the woman who didn't want her sons to be exposed to the violence of colonization. Wow, then the thought of contemporary colonization of natives and native land brought me to want to create a piece on the land, on the hill facing my childhood Catholic school. Catholicism has roots in the process colonization. So, I decided to create a piece on the land. Land, especially Native land, native plants, and native knowledge is valuable to me as well as other native Angelinos and native peoples. Natives all over the world are and have been dealing with the struggles of being pushed out of their land. Native Angelinos are dealing with the feeling of being pushed out of their neighborhoods, their community, their homes because rents are rising and home ownership seems unattainable on working class non-livable wages.
I finally decided to invoke the indigenous Mexican, Nahua native representation of La Virgen before she was Catholic. Our Lady of Guadalupe is Tonantzin, according to history referenced by Ana Castillo in "Massacre of the Dreamers" (p 241). Tonantzin is a representation of a the divine earth mother goddess in Nahua culture. She is also cosmic. She is Our Lady Mother, the Milky Way who gives birth to the Sun God during the winter solstice (p. 243). Here in Rose Hills the roses will symbolize miracles, a reference to the story of Juan Diego who witnessed the appearance of Our Lady of Guadalupe on the hill of Tepeyac in Mexico City where Tonantzin was said to have been worshipped. This story will be interpreted with an installation by artist LiliFlor in the garage. We invite you to come in with your prayers and offerings for this land, for our divine mother Tonantzin, Our Lady of Guadalupe, Madre Tierra the sacred earth mother.
As I return to my native home as an artist involved in healing arts, with a developed dedication and practice to prayer, a spirituality influenced by Native American wisdom, yoga and dance practices, I dedicate this dance offering to the sacred madre tierra (Mother Earth) my mother and especially all the single mothers. This is a ceremony, and a prayer, a dance to bring healing and balance to the land and my memories. Omeoteotl. Aho. Namaste. Ashe.